WORKSHOPS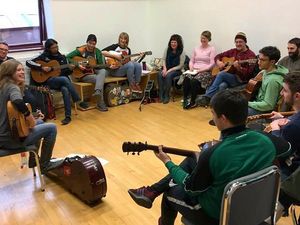 Sarah McQuaid has presented guitar, songwriting and music business workshops at music schools, festivals, arts centres, private homes and other venues in the UK, Ireland, the USA, Netherlands and Germany. She has also given presentations and workshops at primary and secondary schools and universities in the UK, Ireland and USA. Below are descriptions of some of her most popular workshops and school/university presentations, followed by comments from attendees and letters of recommendation from school/university staff.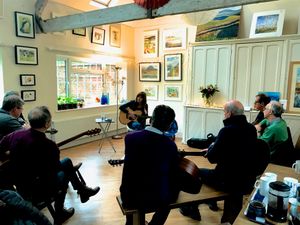 An Introduction To DADGAD
Described by The Irish Times as "a godsend to aspiring traditional guitarists," Sarah McQuaid's The Irish DADGAD Guitar Book has become the standard reference on the subject. Topics covered in the workshop include basic chord shapes in DADGAD, the capo and its uses, backing guitar styles, chord patterns and an overview of the modes (Mixolydian, Dorian, etc.) that are typical of traditional tunes and songs. By way of illustration, Sarah will teach participants to accompany a song in DADGAD, including a simple instrumental break, and will then "take apart" another song, demonstrating how different patterns and variations can be introduced to make the accompaniment more interesting for the listener. Handouts with lyrics, tablature and chord diagrams are provided.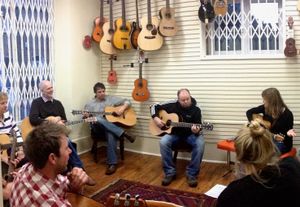 DADGAD Song Accompaniment
In this follow-on to her popular 'Introduction to DADGAD' workshop, Sarah McQuaid (author of The Irish DADGAD Guitar Book) takes a more in-depth look at song accompaniment in the DADGAD tuning. Topics covered include "DADGAD doesn't end with D! Playing songs in the keys of E minor, G and A" as well as the applicability of DADGAD to a multitude of styles from traditional Irish and American music to blues, jazz and contemporary originals. This workshop is aimed at those who have taken the 'Introduction to DADGAD' workshop or are already familiar with DADGAD. Handouts with lyrics, tablature and chord diagrams for songs in various keys and styles are included in the workshop fee.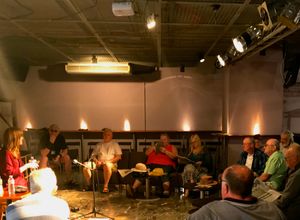 Telling Stories Through Songs
What is it in a story – whether it be a fairytale, a historical event or a recent news item – that makes it worthy of a song? A strong image? A phrase that resonates? An added layer of metaphorical meaning? Is there a message we're trying to deliver? What are the elements (chronological, geographical, thematic) of the story and how will they determine the structure of the song we write? Does the story have a climax? A repetitive theme? A dramatic twist? Who tells the story? How do we turn a straightforward narrative into poetic lyrics that the listener will remember and want to hear again and again? Taking a stack of recent daily newspapers as our starting point, we find a story and look at how we can turn it into a song. Participants are also invited to bring along their own compositions to share with the group, if they wish!

Music Business Q&A
Sarah has been a full time musician since 2007. She has self-released six critically acclaimed solo albums and tours regularly in the UK, USA, Ireland, Netherlands and Germany, playing over 100 shows a year and handling all her own tour booking without the help of an agent. Sarah also manages her own website and handles much of her own PR (with assistance from Pat Tynan Media in the UK and Howlin Wuelf Media in the USA). Since 2008 she has been working closely with Martin Stansbury, who became her manager in 2011; he also runs her live sound, looks after her tour management, records and mixes her albums, and produced both Sarah's latest album The St Buryan Sessions and Crow Coyote Buffalo (2009), an album of songs co-written under the band name Mama by Sarah with former pop star Zoë Pollock of "Sunshine On A Rainy Day" fame. Sarah and Martin are both happy to answer questions about the DIY approach that has become a necessity for independent artists.

School Presentations & Workshops
Sarah has given presentations and workshops at both primary and secondary schools in the UK, Ireland and USA. For younger children, this generally takes the form of an informal talk about her background, career and what it's like to be an internationally touring artist, interpersed with songs involving audience participation and plenty of time for questions from the floor. For students at secondary level, Sarah has given both songwriting and guitar workshops in a classroom setting. Scroll down to read letters of recommendation from the principal of the Wilson Focus School in Omaha, Nebraska, USA, and the Music Teacher at the Christian Brothers School in Arklow, Ireland.

Comments from venues and previous attendees:

"I'm the Course Director of the MA in Songwriting at the Irish World Academy of Music and Dance located in the University of Limerick. In a previous role I presented and curated various radio programmes on our National Broadcaster RTE, including 10 years on the highly acclaimed late night programme The Blue of The Night. So Sarah McQuaid was a familiar sound to my ears and indeed a frequent inclusion on my playlists. When I took over this new role as Course Director I was determined to have Sarah as a visiting tutor for both a DADGAD guitar workshop AND a songwriting one. Both were received ecstatically by our students who have voracious appetites for good music. Sarah engaged so beautifully and made both workshops a memorable experience. We were blessed also with a live performance at our Lunchtime Concert Series where she enthralled the audience with her musicality, virtuosity and her unique and endearing charisma – she charmed the room. Can't wait to have her back."
—Carl Corcoran (Limerick, Ireland)

"Her DADGAD workshop was well planned and thought out and has already inspired me to write a song using this tuning. Her songwriting workshop highlighted innovative processes that I have not used before. Her Q&A session on the music business was informative and also very grounding. Sarah has a wonderful lightness about her that shines through in her music and performance and I am delighted to have had the opportunity to meet her."
—Claire Watts (Limerick, Ireland)

"Probably the best workshop I've been to – well structured, lots of info plus handouts."
—Mike Stanton (Warwickshire, UK)

"The informal approach made me feel relaxed and I learnt quite a lot in a very short space of time."
—Steve Ford (Coventry, UK)

"Really enjoyed workshop. Would suit all levels and Sarah has a great teaching style."
—Pete Redrup (Southdowns, UK)

"I attended Sarah McQuaid's DADGAD workshop at Sidmouth Folk Week in 2007. Clear, comprehensible, useful and very pleasantly and ably presented. Lovely speaking voice and personality apart from anything else. DADGAD is something I try once in a while, and it is nice to have much more clue about it than I should otherwise. Also, it was just a nice workshop."
—Peter Thomas (Surrey, UK)

"I really enjoyed your workshop and I liked the way you made sure there was something for everyone. Each one of us had come along with widely different expectations and experience but you overcame this by adapting to the way the flow was going. As someone who has dabbled in open tunings, including DADGAD, for 35 years without really knowing what I was doing I certainly got a lot out of the session, which was also my first 'guitar lesson'! For me it was useful to have read your Irish DADGAD Guitar Book beforehand but this was by no means a necessary requirement for a participant to benefit from the workshop. I liked too the impromptu illustrations using guitar parts taken from songs and instrumentals on your CDs. Your insight into chord structures and scales cast a new light on the reason why an open tuning like DADGAD works, in contrast to my previous hit-and-miss, limited attempts at picking out chords that sound nice. I'm sure I speak for other participants when I give a big thank you for an excellent workshop, which I would recommend to any guitarist."
—Adrian Vranch (Devon, UK)