… to heading out on the road again in the New Year, with tour plans that will take me to Continental Europe and the USA for the first time since Covid, as well as to Ireland and the UK! 
But who/what are "back", you ask? Well — it was really lovely being out on tour in November, even if audience numbers were (with some notable exceptions) much lower than they'd have been pre-pandemic. I imagine the cost-of-living crisis was a factor, and I also think a good few people discovered during lockdown that they quite enjoyed staying in rather than going out. For the sake of the whole industry, I hope that changes soon! But even with the small turnouts, it was fantastic to be performing to live audiences, and I'll never stop feeling grateful for that. 
The only downside was that people kept asking for sizes of my red and black "If We Dig Any Deeper It Could Get Dangerous" t-shirts that I didn't have. I'd intended to let them go quietly out of stock, to be replaced by St Buryan Sessions t-shirts and in due course by future shirts for future albums … but halfway through the November tour I realised the folly of my ways and placed an order for more Dig Any Deeper t-shirts. And now here they are: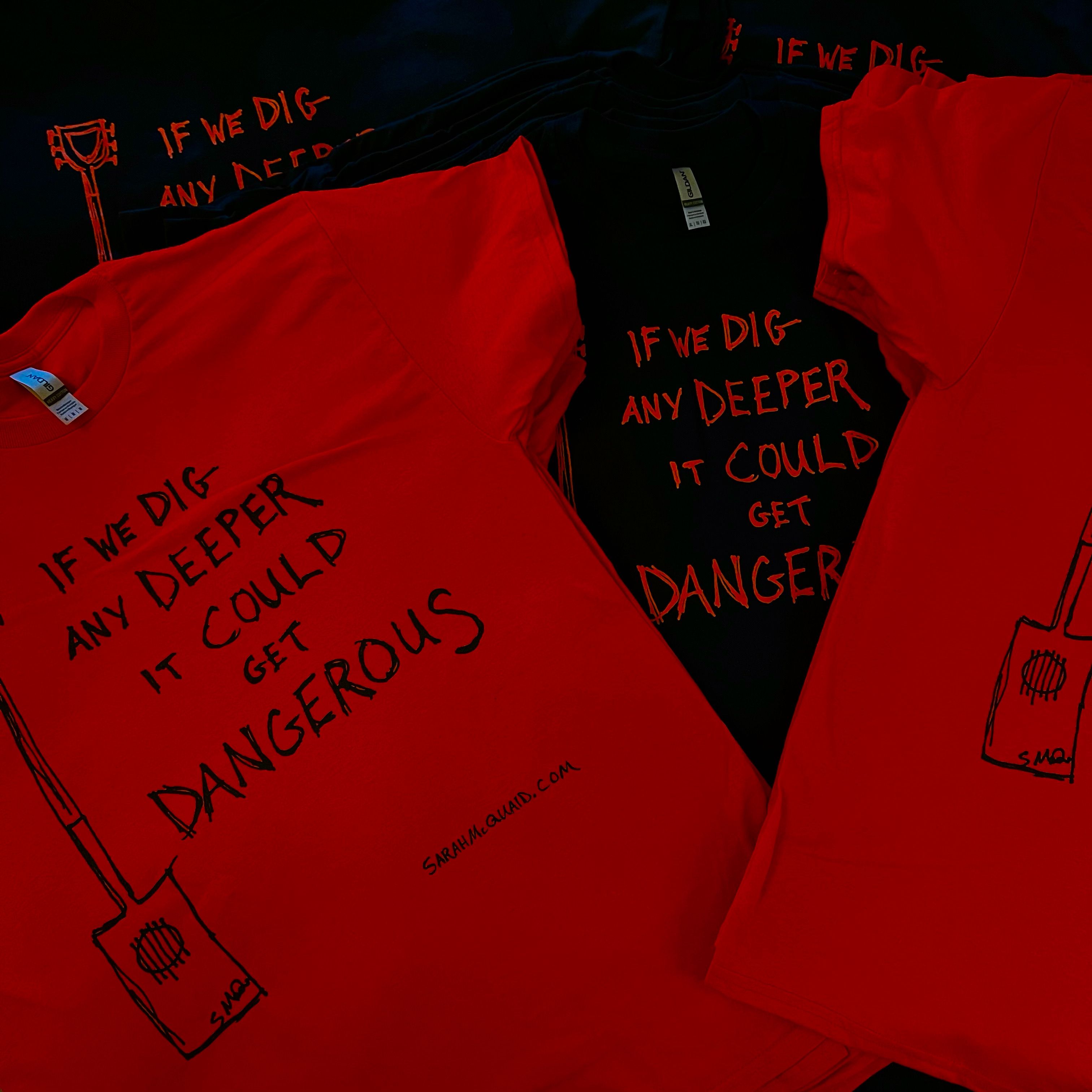 I've also still got plenty of St Buryan Sessions t-shirts on hand, so do check out the Store page of my website if you're interested in either shirt (or in CDs, vinyl LPs or one of my 4 remaining tote bags — the tea towels are now sold out!). 
Meanwhile, I've been doing lots of cooking, as is my habit at this time of year. See my Instagram page for assorted culinary photos, including these ones of peppermint bark as both work in progress and finished product: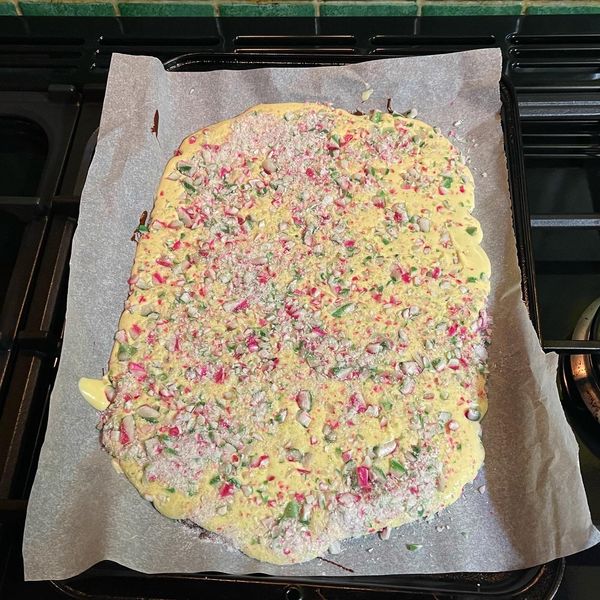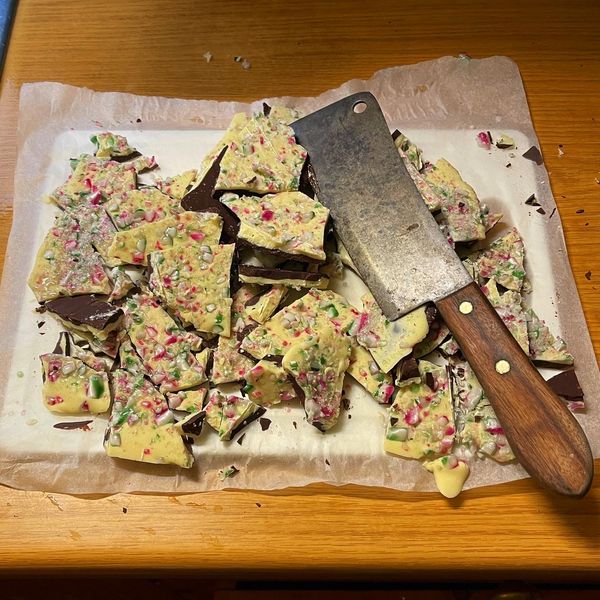 If you've not made it before and have candy canes kicking around the place that need using up, do have a go — it's incredibly easy! Just melt around 400 grams (or 1 pound) of dark chocolate in a heatproof bowl over a pan of simmering water, stirring as it melts. Spread it out on a piece of baking paper on a cookie sheet, throw it in the fridge to cool, then melt an equal quantity of white chocolate. Put your candy canes in a plastic bag and bash them to pieces with a rolling pin (my favourite part of the process). When the dark chocolate has cooled and hardened a little, spread the melted white chocolate on top, then immediately sprinkle the crushed candy canes over, pressing them down a little so that they're well embedded in the white chocolate. Refrigerate overnight, then break into pieces — I use my grandmother's old cleaver (also pictured above) to do it, which is nearly as satisfying as the aforementioned bashing with the rolling pin. Highly recommended. 
And here's my new tour poster — as always, anything you can do to help spread the word would be massively appreciated (see the Tour page of my website for ticket links and full info):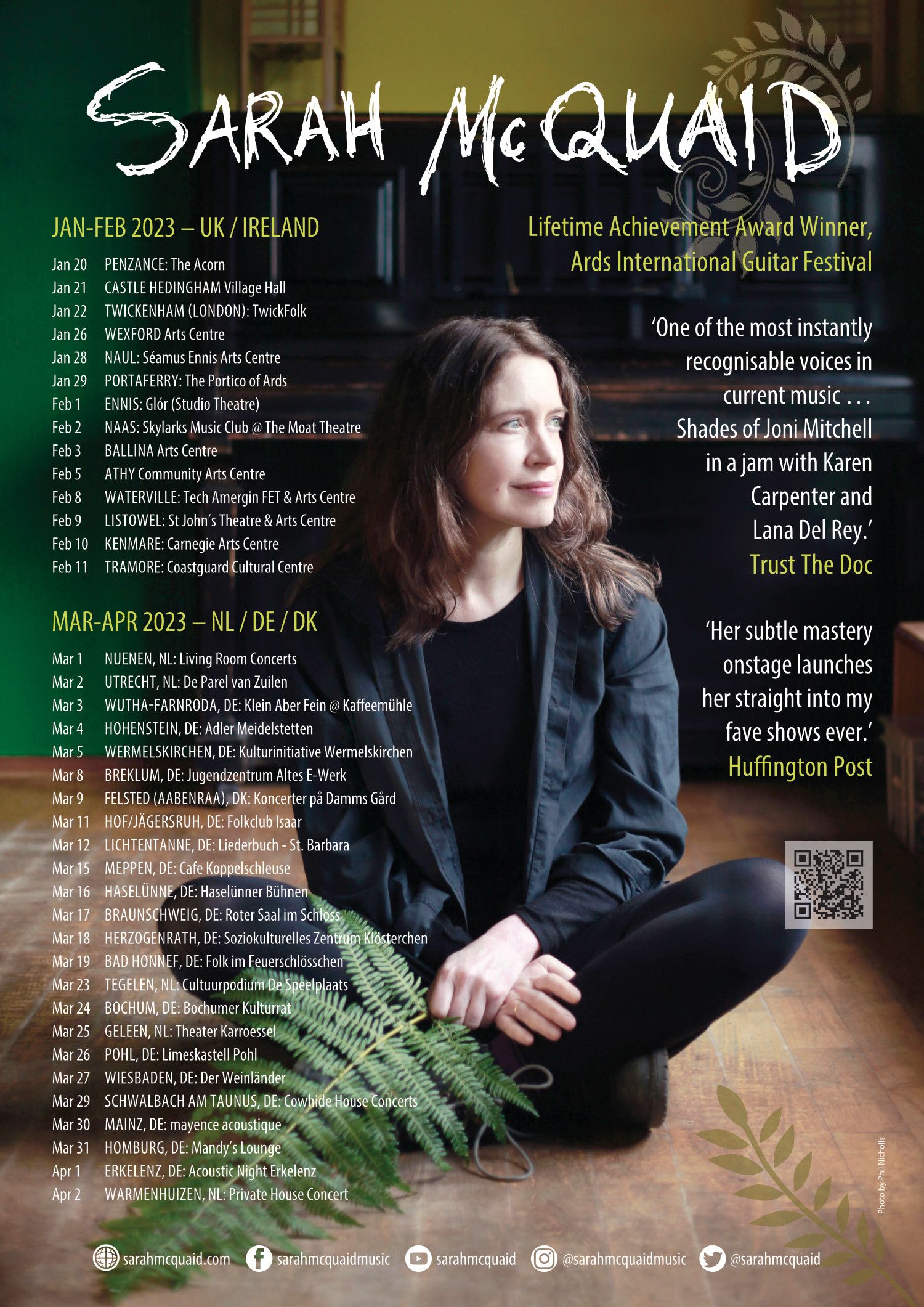 Finally, please do let me know of any music venues, churches, arts/community centres or house concert hosts in your area who might want to book me in future — my autumn 2023 UK and USA tours are still wide open at the moment, as are my spring 2024 Ireland and Europe tours. 
Many thanks for your support, and I hope to see you down the road!